Product Review: Sizzix Big Shot
With so many die-cutting machines on the market today, how do you choose which one is best for you? I have tried and purchased many but I must say that the Big Shot is by far my favorite. This machine does everything, and I no longer need all of the other machines. Let's look at what this wonderful machine does!
What Comes with It?
When people start looking at buying a Big Shot, one of the first questions they ask is "What comes with it?" "Do I need to buy the cutting pads or can it be used right out of the box?" The answer is that it can be used right out of the box! Everything you need for die cutting is included. The Big Shot comes with:


a standard pair of cutting pads
the multipurpose platform
the Big Shot machine
Now if you plan on using your machine for embossing, you will need to purchase a couple of extra pieces: the Sizzix Texturz Silicone Rubber Pad and the Sizzix Texturz Impressions Pad. Also, at either link listed, you can watch a video of how to emboss using your Big Shot. There is no functional difference between the Hello Kitty Big Shot and the black Big Shot.

Types of Machines
The Big Shot is available in a manual or an electronic version. I have the manual version, and I love it. I have carpal tunnel, and I do not have any problems turning the handle at all. However, if you want to pay a little more and get the electronic version, I am sure it works just as well.
You can watch a video of the manual Big Shot or watch a video of the electronic cutter, the Big Shot Express, here to see some of the differences between the two options.
Sizzix has also come out with the Big Shot Pro which will cut 12" x 12" dies. Wow!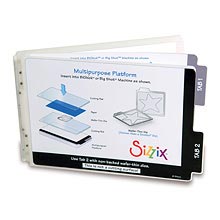 What Is the Multipurpose Platform Anyway?
The multipurpose platform is the best invention ever, in my opinion. If you are using other manufacturers' dies that are thinner than a Sizzix Bigz die, then you must use this platform. This platform basically makes all dies compatible with your Big Shot.
When using other die machines, you have to remember the special "sandwich" you make to use other manufacturers' dies. However, Sizzix makes this very easy with the multipurpose platform. I always have trouble remembering how to make the "sandwich" but Sizzix put all of the "sandwich" instructions right on the multipurpose platform itself, making die cutting super simple. I love that!
I personally use the following dies and folders in my Big Shot almost daily:
Sizzix dies
Sizzlit dies
QuicKutz dies
QuicKutz cookie cutter dies
Spellbinders Nestabilities
Spellbinders Shapeabilities
Spellbinders Borderabilities
Cuttlebug embossing folders
I also emboss with these dies in my Big Shot after cutting them out. It works like a charm, and the multipurpose platform shows the instructions right on the platform itself. With that said, they do not list other manufacturers' names on the platform but it is easy to guess who and what they are talking about.

Pros and Cons
Pros
This machine does it all. It cuts paper and cardstock of all thicknesses. It also cuts many pieces at once so if you are creating something in bulk, you can produce many of the same cut at once. It also cuts fabric, cork, chipboard, quilt batting, etc. Please note that some materials can only be cut with the steel rule dies. As stated before, it also embosses.
Cons
Truthfully, I have not found any cons to this wonderful machine yet. It is a bit heavy so if you attend a lot of crops, this may be a bit cumbersome to transport. The Big Shot machine measures approximately 14 1/4" x 8 1/2" x 6 1/2" and weighs about 10 pounds so you may need to take that into consideration if you travel with your die-cutting machine a lot.
I hope this review gives you a bit more information to help you make your decision as to which machine to buy. I give this machine a 10+ rating. It is definitely my favorite machine on the market!